Bagdasarov book: HIGH-TEMPERATURE CRYSTALLIZATION FROM MELT
Kh. S. Bagdasarov
HIGH-TEMPERATURE CRYSTALLIZATION FROM MELT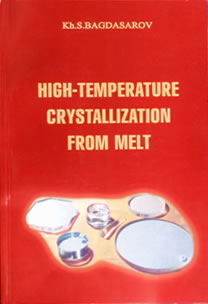 The monograph presents the results of many years author works in the field of high-temperature crystallization. A stimulus of this crystallographic field development was quantum electronics. Creation of high-melting (refractory) laser single crystals having high quality and large sizes made a valuable contribution to the development of the present field.
High-temperature crystallization as independent scientific direction obtained an extensive progress in second half of XX century. In essence two parts connected with use the refractory optical single crystals were formed. One part is connected with application of the high-melting (refractory) single crystals as optical and laser elements, substrates for integral schemes and nanostructures, detectors of soft and hard radiation, various filters, frequency converter and so on. Another part in which the refractory single crystals are used as strength constructions elements only start to develop. A perspective of the present direction is determined with exclusively high set of physical and chemical properties of many refractory single crystals.
In monograph the main problems of high-temperature crystallization (physico-chemical processes, accompanying the substance melting and crystallization, physical kinetics on the growth front, heat-mass-transfer processes and processes taking place in the single crystals over their cooling) are considered. Besides a special attention are given to the crystallization methods and technique of the high-melting single crystals growing including process of automation.
Kh. S. Bagdasarov

HIGH-TEMPERATURE CRYSTALLIZATION FROM MELT
CONTENTS
Chapter I Physico-chemical processes accompanying melting and crystallization of a substance
§ Phase diagram and single crystal growth conditions ... 11
§ Crystallization atmosphere ... 18
§ Container material ... 23
§ Chemical processes accompanying crystallization ... 29
§ Physico-chemical nature of local heterogeneities(inclusions) in single crystals ... 35
Chapter II Physical kinetics at the growth front
§ Mechanisms of growth from the melt ... 38
§ Faceted and unfaceted forms of growth ... 40
§ Growth mechanisms and impurities trapping ...
§ Growth mechanisms and morphological stability ... 43
§ Growth mechanisms and residual stresses ... 48
§ Trapping of mechanical particles by the growth ... 51
§ Formation of blocks and small-angle boundaries ... 55
Chapter III Processes of heat-and mass transfer in growing Refractory single crystals
§ Thermo physical processes with regard to optical properties of single crystals and their melts ... 61
§ Peculiarity of thermal fluxes at the growth front ... 63
§ General conditions of analytical calculation of temperature fields ... 65
§ The nature of convective flows in melt ... 69
Chapter IV Processes in single crystals being cooled
§ Residual stresses ... 74
§ . Dislocation structure ... 78
§ Block structure ... 81
§ Macroscopic particles moving in single crystal ... 83
§ Solid-phase chemical reactions ... 87
§ Diffusion of point defects ... 91
Chapter V Refractory single-crystal growth methods
§ Development of the high-temperature crystallization method ... 95
§ Method of Verneil ... 97
§ Zone melt ... 103
§ Czochralski method ... 107
§ Stepanov method-capillary forming ... 111
§ Kiropoulos method ... 114
§ Bridgman method ... 119
§ Bagdasarov method ... 127
Chapter VI Techniques of refractory single crystal growth from Melt
§ Crystallization equipment ... 138
§ Heating sources ... 142
§ Control of crystallization temperature-time behaviour ... 157
§ Control and automation system ... 161
Conclusion ... 171
Reference ... 173
Bibliography ... 176